Posted by Gildan Brands | Gabriela Rocha on 9th Nov 2023
Thursdays are for throwbacks, and few memories are as worth revisiting as our collaboration with Universal Music during the very first South by Southwest (SXSW) outside of its Texas origins. This epic event made its way down under landing in Sydney, Australia, in October 2023 and we had the pleasure to join in on the fun.
Over three nights, the old "Barneys" (St. Barnabas Church, Broadway) was transformed into a dazzling neon playground where music seamlessly merged with style from October 18th to 20th. To enhance the experience, we took things up a notch by offering a live heat press activation for customising Gildan t-shirts, featuring stunning designs created by local artists Raymond Tuifao Lalotoa, Hayley O'Connor, and Sindy Sinn.
With heat presses primed, displays arranged, and our enthusiastic staff sporting their widest smiles, we welcomed thousands of visitors eager to have a taste of Gildan and Universal Music. Attendees engaged with our team and got the chance to feel our tees while enjoying great music. The American Express x Universal Music House also hosted a Record Shop, allowing fans to sample and purchase music from Universal Music's impressive roster. Our unique heat press activation captivated everyone, inspiring them to make Gildan tees their own and express themselves through one of our most popular canvases of comfort: the Gildan Softstyle 65000 Midweight T-shirt.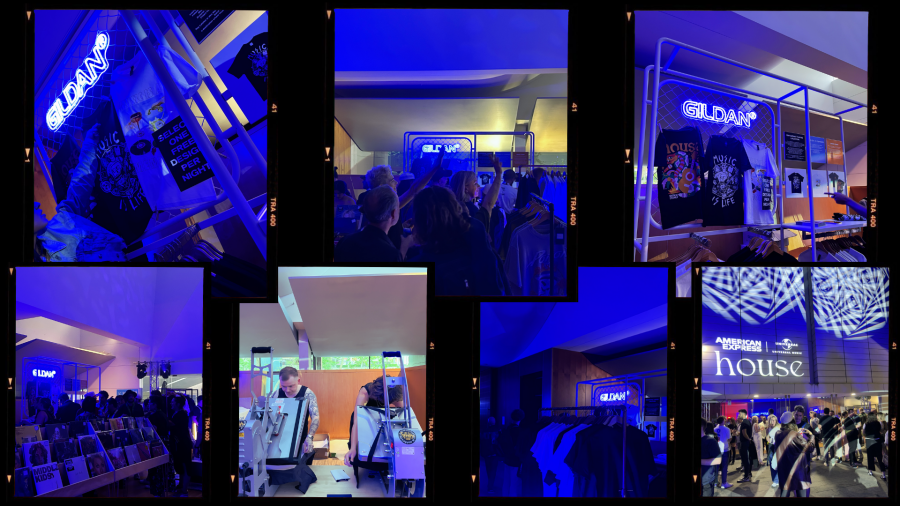 Gildan's activation at South by Southwest Sydney 2023.
The crowd's enthusiasm was palpable, with people queuing up even before the doors opened. The screen printing process added to the entertainment, accompanied by the sounds of 12 exceptional voices from around the world, including Ben Swissa, Eliott, Cat & Calmell, Caity Baser, Sophie Hutchings, Sarah Kinsley, Middle Kids, Kobie Dee, BARKAA, Telenovela, Drax Project, and Sgt Slick. The line-up reached its pinnacle with a historic musical moment: Universal Music treated the audience to an exclusive world-first listen of The Rolling Stones' highly anticipated new studio album, "Hackney Diamonds". The venue was transformed to provide fans with the unique opportunity to hear these future classics for the very first time anywhere in the world.
The atmosphere at American Express x Universal Music House was electric, filled with music, laughter, tees, talent, and pure fun. As the only city outside of Austin, Texas, to host SXSW, Sydney has solidified its status as the creative epicentre of the Asia Pacific region. In light of this, we take great pride in our participation at SXSW Sydney 2023 alongside Universal Music, showcasing how brands and artists can collaborate together. We extend our sincere thanks to all those beautiful souls who joined us and contributed to the event's resounding success.
Looking ahead, we are eager to recreate this experience, continue spreading the positive vibes of Gildan t-shirts, and make even more memories together.
See you next year!